2021 Season Tickets
$59.00
Enjoy an entire year (starting from your time of purchase) of fantastic musical theatre, exciting events, and immersive experiences.
Seasons tickets are what enable us to continue making shows. Especially during the pandemic, when seats are limited, season tickets ensure that you won't miss out. (1) Save money while (2) enjoying entertainment at its finest and (3) supporting the arts in your community. Win-win-win.
February – Roaring Twenties Valentine Ball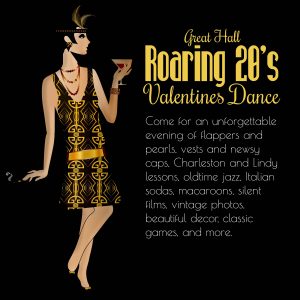 Come for an unforgettable evening of flappers and pearls, vests and newsy caps, Charleston and Lindy lessons, old-time jazz, Italian sodas, macaroons, silent films, vintage photos, beautiful decor, classic games, and more. (Depending on the state of the pandemic, this event may be adapted or postponed.)
March – Bums! (the musical)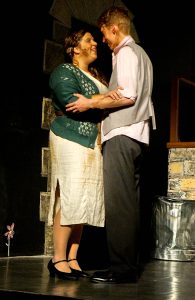 In 1929, a daydreaming businessman named Edward feels trapped in his drab routines. Then he crosses paths with a homeless man named Dirty Dan, who shows Edward a world of unstructured freedom. But going against the grain brings on the resistance of Edward's fiancee, his family, and the corporate world. Why won't society just let him be a bum?
"I could go on and on about the other actors and their comedic prowess, but suffice it to say the show was well cast. … I left the theater smiling and hungry for more original pieces like this one. … It's exciting to see theatre written and produced by local playwrights, and Stephen Gashler shows all the promise of a truly great artist" (Utah Theatre Bloggers).
(TBA) Great Hall Mystery Dinners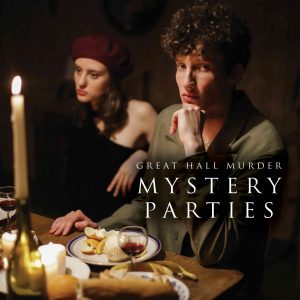 Great Hall Theatrical hosts a variety of murder mystery events, from themed dinner parties (included) to overnight stays at bed and breakfast hotels (extra). Imagine joining friends for an unforgettable night of mystery, suspense, and laughter. As you enjoy your meal, an entertaining host will lead the group through four exciting rounds of role-playing and clue-finding. Whether you're an introvert or an extrovert, a detailed booklet of instructions will make it easy to play your character.
May – Valhalla | A Nordic Rock Opera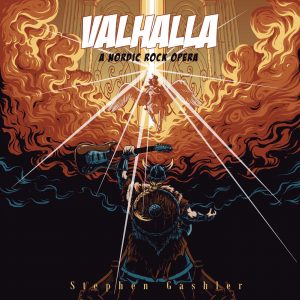 What began as a successful Kickstarter campaign and a beloved "viking rock" album is coming back by popular demand for its second run.
In the year 830, a band of vikings raids a Saxon nunnery. But when the battle goes sore, Sven, the youngest viking, is separated from his clansmen. Needing to find a way back to Norway, he takes a young nun named Mary hostage, and together they face a perilous voyage on a stolen ship, a journey that takes them to the edge of life and into the magical realm of the gods.
June – The King's Feast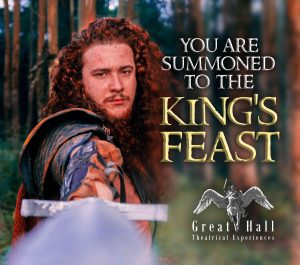 Bring your lord or lady and get the royal treatment you deserve at a medieval feast. Imagine dining on four sumptuous courses while enjoying the best of a Renaissance Fair. Over two hours of entertainment, you'll be treated to shows of combat and magic, authentic music, dancing, Arthurian legends, and more. Learn an ancient dance, try your hand at combat, or enter to win the costume contest for a chance to become the king or queen of the evening.
August – The Lady of Sherwood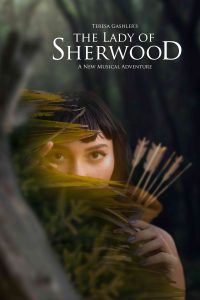 The family saga of Robin Hood continues in this brand, new musical adventure by award-winning playwrights Stephen and Teresa Gashler. Featuring epic music a la <i>Celtic Woman</i>, <i>Blackmore's Night</i>, and <i>River Dance</i>, this is far from your typical Robin Hood play. Paradigms shift as trusted kings become tyrants, heroes become villains, and "stealing from the rich and giving to the poor" no longer seems ethical. When England falls to mobs and chaos, Aspen, the free-spirited and free-thinking daughter of Robin Hood, must do what it takes to stop a war.
Take My Death Away | A Halloween Musical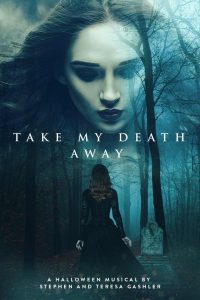 After a phenomenal debut in 2020, with many sold out performances, Take My Death Away is back by popular demand for its second run.
A the turn of the twentieth century in rural America, David and Sadie, an engaged couple, face tragedy when David suddenly dies. But death isn't about to stop David's unconquerable spirit. On the other side, he teams up with a ghost named Eve, who helps him find a way back. The journey is fraught with peril, and to get to Sadie before she marries another man, David may have to make a pact with an agent of the devil. Take My Death Away is an enchanting Halloween musical and romantic comedy, featuring haunting melodies and upbeat bluegrass music.
A Krampus Karol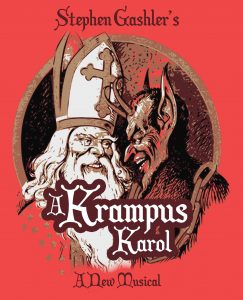 American children
Have nothing to fear
Except for a black lump of coal.
Europe's small children,
If naughty this year,
Must verily fear for their souls.
You're as Good Man, Charlie Brown meets Agatha Christie's And Then There Were None, with a touch of Tim Burton, in this mildly dark comedy by Stephen Gashler. For hundreds of years, Christmas was a time for bone-chilling suspense as fearsome monsters teamed up with Santa Claus to administer divine retribution against the naughty. Sadly, the most celebrated of these goat-legged sensations, Krampus, never seemed to make it across the Atlantic. It's time to remedy that with an all-new, whimsical Christmas tradition destined to take its place as a Christmas classic. (Not recommended for young children.)
2022 Season – TBA
Upon purchasing your season ticket(s), you will receive an email confirmation, and your name will be automatically added to reservation lists. Simply show up to any event (or contact us ahead of time to reserve a particular time), and you'll be all set to enjoy an entire year of fantastic entertainment.