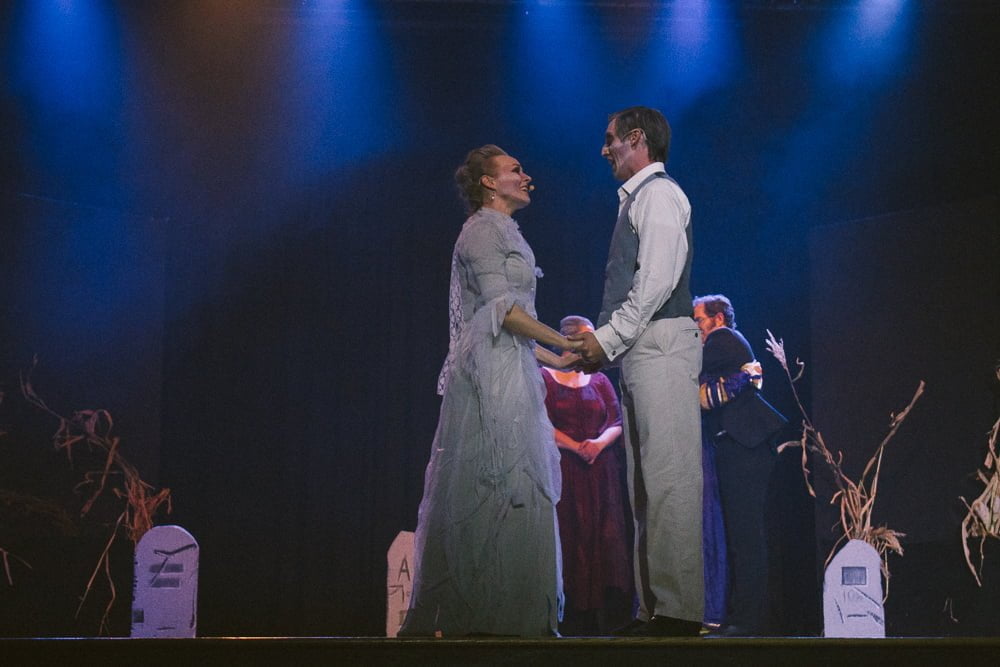 The cast and crew of TAKE MY DEATH AWAY are busy working hard to bring to life the (surprisingly lively) afterlife that our characters find themselves in after their untimely demises. In the meantime, let's take a look the ghostly romance that takes place in this original Halloween Musical:
Separated from his fiancé through the curtain of death, David is determined to find a way to return to the living with the help of his new friend Eve. As they find success in this endeavor, the thought of being parted begins to make them realize how much they mean to one another…
Meanwhile, bereaving fiancée Sadie struggles to move on while being haunted by ghostly apparitions. Isaac, a young doctor that Sadie works under, attempts to help Sadie complete her grieving. He hopes that she might consider him as a suitor instead. Though skeptical of the supernatural, Dr. Isaac is truly concerned for Sadie's welfare…
Will the living (and dead) find love once again? Or is death a barrier that even love cannot break through?
You'll have to watch TAKE MY DEATH AWAY this coming October to find out! Click here for tickets and more information on this Halloween Musical!